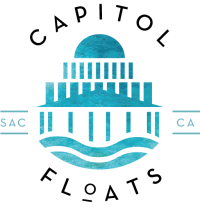 Ryan Duey, the owner of Capitol Floats is offering all District Attorney employees the following deal during the month of April:
1.)    Single float – $49 (normally $65)
2.)    Intro 3-pack option – $110 – $36 dollars a float.  The 3-pack float is a good option for all first timers because (as Erin Blake mentions in her blog- READ IT!), it can take a few times to really get a feel for floating.
When you book a float use the code:

sacda
Hydration Challenge –
Challenge yourself to track the water you consume every day.  Aim to drink half your weight plus eight in ounces of water daily. (For example if you weigh 180 pounds you would aim to drink 98 ounces daily)  Everyone who tracks their consumption of water for the month of April will be entered into a lottery and have the chance to win one of five Sacramento County District Attorney water bottles.  You are on the honor system and the only requirement is to track your consumption  every day. We will announce the time and place of the lottery and the winners at the beginning of May 2018.