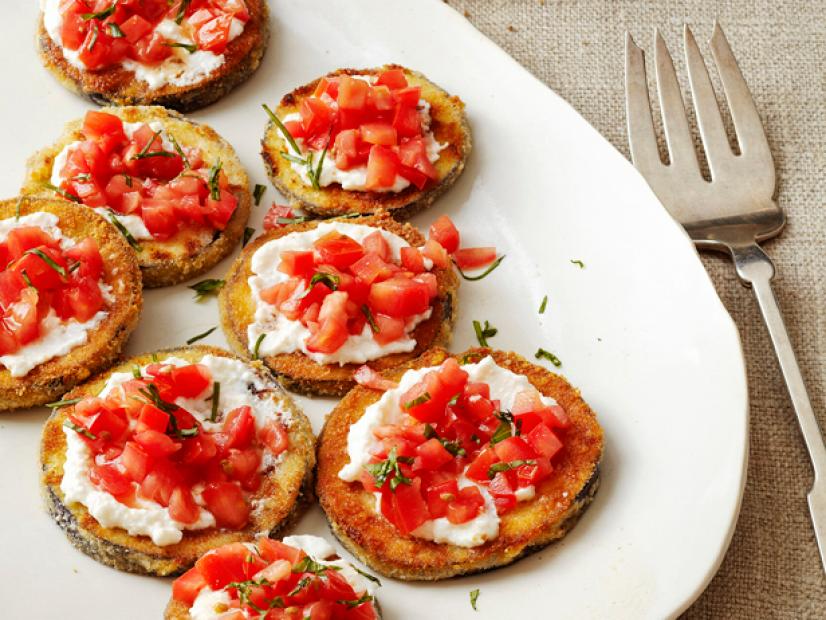 Featured Recipe
Eggplant Ricotta Bites
Food Network Magazine's Eggplant Ricotta Bites are the perfect last-minute appetizer addition, being as delectable as they are simple to make. Taking only 35 minutes to prepare, these crispy, savory treats won't cause you any added hosting stress, either.
And, if you were worried about a proper holiday presentation, fear not. These bites are seasonally colored in a snowlike white from the ricotta spread, a vibrant red from the diced plum tomatoes and a festive green from the fresh basil topping.
Thinly slice the eggplant into rounds and season with salt. Pour some flour into a shallow dish. Beat the eggs in another dish. In a third dish, mix the breadcrumbs and parmesan. Dredge the eggplant in the flour, then dip in the eggs and coat with the breadcrumb mixture.
Heat 1 tablespoon olive oil in a large skillet over medium heat. Working in batches, cook the eggplant until golden, about 2 minutes per side, adding more oil between batches, if necessary. Drain on paper towels and season with salt.
Toss the tomatoes with the remaining 2 teaspoons olive oil and the vinegar in a bowl. Spoon some ricotta onto each eggplant slice. Top with the tomato mixture and basil.
1 medium eggplant
Kosher salt
All-purpose flour, for dredging
2 large eggs
3/4 cup breadcrumbs
1/4 cup grated parmesan cheese
1 tablespoon plus 2 teaspoons extra- virgin olive oil, plus more as needed
2 large plum tomatoes, diced
2 teaspoons red wine vinegar
1 cup ricotta cheese
Shredded fresh basil, for topping